To contribute to society by establishing a method to measure pain
with universal indicators
in order to provide safe and comfortable medical care equally to all patients.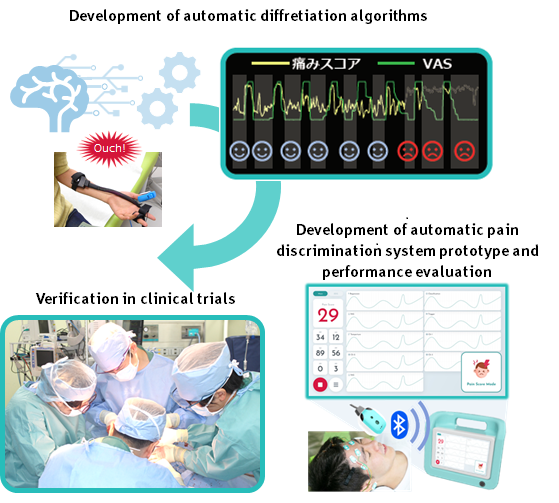 Pain is one of the most unpleasant sensations and serves as an alarm to warn living organisms of a crisis.
In order to properly evaluate it in a timely manner, it is necessary to receive proper medical care by assessing the condition accurately.
On the other hand, long-lasting pain is not an alarm.But for a patient, it could be very painful, and often includes suffering or agony because it is misunderstood by others.
Since prolonged pain is harmful to the living body, appropriate treatment is vital.
As of now, there is no method that can evaluate pain objectively; it is basically defined by self-declaration.
If a person says it hurts, or it is painful; then there is pain.
The sensitivity and expression of pain vary greatly depending on individuals, so patients sometimes fail to receive appropriate treatment.
Other times, inadequate pain treatment causes severe side effects such as being in a vegetative state or drug addiction.
Since the process of pain recognition is highly complex and not easily clarified, elucidation of pain recognition may have to wait for a much farther future.
一On the bright side, great progress has been made in extracting a brainwave feature.
Through the use of Big Data analysis,
with the power of Artificial Intelligence, we are developing a system which can evaluate pain
without taking verbal information from the patients themselves by picking out pain components from large set of pain data, including its intensity or severity.
What we can do to achieve the world standard for pain treatment
---
Achievements to date
---
Current development status
---
Flow of an experiment (example)